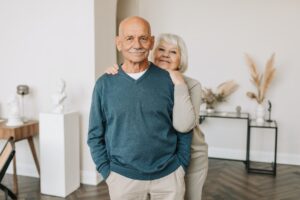 If you lose a tooth, the most important thing you can do is replace it as quickly as possible. A lost tooth can result in severe misalignment, bone deterioration, and a substantial drop in your self-esteem. Your dentist can replace a missing tooth in various ways, and Dental Care of Mesa in Mesa, Arizona, offers a variety of solutions. The most popular type of restoration surgery is a dental implant. An implant is a long-term surgical procedure that produces wanted results. We created this page to assist you in better understanding the method and benefits of dental implants. Continue reading to learn more about dental implants and how they can affect you.
What is a Dental Implant?
A dental implant is a tooth replacement surgically placed into your jawbone. There are three steps to the procedure, each of which must be performed separately. Although the treatment appears to be lengthy, it leads to a permanent tooth replacement that, with proper care, can last for decades. We make the implant to match the anatomy of your teeth. It will blend in with the rest of your smile. Nobody will be able to know you have a dental implant, even yourself.
What is the Procedure for Dental Implants? 
On average, dental implant surgery might take up to 6 months. This timeframe is due to the multiple stages spread out over time, permitting your mouth to heal. The three components of an implant are the post, abutment, and crown, which are all implanted at different times.
The post is the first part of the process. The post, which looks like a metal screw, will replace the root of your tooth. A local anesthetic will alleviate any pain that you could feel. We encourage you to ask about our numerous sedation options so that you can relax while preparing for surgery. The dentist will begin by drilling into the jaw bone, exposing the gums, and creating a space for the post. Once the post is in place, it will take some time for your mouth to heal around it and set it in place.
Once your mouth has healed around the post, you'll return to the dentist for the abutment. The abutment is the second element that goes into your mouth. It is a connecting piece between the post and the crown, which will keep the crown in place. Once we install the abutment on top of the post, your mouth, particularly your gum line, will need time to recover around it. We will give you a temporary crown while you wait.
A dental crown is the final part. A crown will be manufactured to your exact specifications in shape and color while undergoing the implant procedure. It will blend in with the surrounding teeth and be completely invisible once it is in place. You may have some sensitivity in your mouth when the crown is first in, but you can immediately use your implant. With time, you won't know you have a dental implant. It will have a perfectly natural feel about it.
Dental implants are available to all qualifying patients at Dental Care of Mesa in Mesa, Arizona, to help them rebuild a bright, appealing smile. If you are missing a tooth, we recommend that you make an appointment to see if a dental implant is the best option for you. Don't hesitate to contact us or visit our office if you have any additional inquiries about dental implants.